A Report from:
The Urhobo Voice

A Newspaper Covering Events in Urhoboland and Offering Diverse Perspectives on Urhobo History and Culture

________________________________________________________


September 5, 2005

A Memorial Service for Agori Iwe, First Anglican (Communion) Bishop of Benin, Nigeria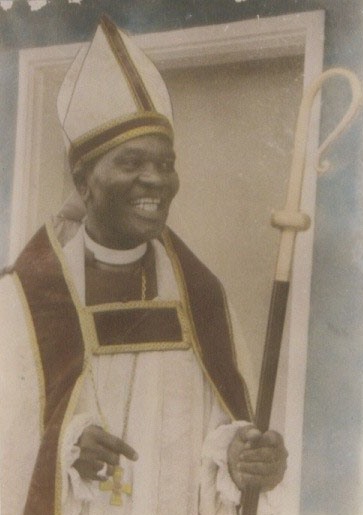 Bishop Agori Iwe

First Urhobo Anglican Catechist, Evangelist, Bishop Celebrated at Ovwodawanre
By Vincent Ogbunisi
VEN. (Dr.) J. O. Aruoren, vicar in charge of Bishop Agori-Iwe Memorial Anglican Church, Ovwodawanre, Ughelli in his sermon at the just concluded four-day Bishop Agori Iwe Day celebration, suggested that the day be celebrated annually by the entire Anglicans in Urhoboland, to mark the achievements of Bishop Agori Iwe in Anglican history and Christianity in general before he passed on to glory on July 9, 1979.
According to Ven (Dr.) J. O. Aruore, beforeBishop Agori-Iwe slept in the Lord, he was able to achieve more than some of the saints that Anglicans remember and celebrate annually. He urged Urhobo Anglicans to view his suggestion with seriousness and join Bishop Agori-Iwe Memorial Anglican Church, Ovwodawanre in celebrating the bishop annually, noting that the celebration has already started at the old Ovwodawanre Anglican Church, now Bishop Agori-Iwe memorial Anglican Church, Ughelli, describing the late Agori-Iwe as the first catechist, evangelist, reverend and bishop in the history of Urhobo Anglicans.
During the four-day celebration at Ovwodawanre, headquarters of Anglican churches in Ughelli, there were activities such as the Holy Communion service by Ven. (Dr.) J.O. Aruoren; economic talk on wealth creation by Hon. A. A. Agi; musical entertainment by the Anglican Youths Fellowship, Bamaco, as well as a lecture on the history of Christianity in Nigeria with reference to the life and works of the late bishop, delivered by Rev. (Prof.) S.U. Erivwo (JP), provost of St. Andrew's Cathedral, Warri.
Other activities were entertainment songs by the Anglican Adam Preaching Society (AAPS) band; novelty football match between AYE and AAPS (girls), as well as tug of war between men (50 years and above) and women of 40 years and above. There was also thanksgiving service/sermon, which was closely followed by a great feast that brought the four-day celebration to an end.
The novelty match between girls of under nineteen in AYF and AAPS was kicked off by Ven. Aruoren, ending two goals to nil in favour of the AYF team with Miss. Joy Okuma and Miss. Evi Osigwe scoring both goals respectively, while the tug of war game was won by the women numbering twenty against the men numbering ten.
In his lecture titled:"The seven laws of wealth creation in a depressed economy for Christians," Hon. Deacon A.A. Agi, director, A.A. Consultancy Services, Ughelli, Delta State said that wealth or poverty is a function of the individual, and has nothing to do with God because "it has become a great necessity to learn how to create wealth, just as we have to learn how to drive a car before we can drive it."
Said he: "It is a painful irony in our educational system that students are inundated with knowledge, skills and professions, which they must necessarily hire out to somebody for them to survive. They are not taught how to create wealth with their education neither are they taught anything about themselves except in biology classes.
"The lesson on wealth creation, which we receive in our churches are also grossly inadequate. We are taught to pray for wealth, to pay our tithes, to sow seed of faith, to give and to vow so that we can be wealthy. Practical experiences have shown that though they work; they have not led to sustainable wealth among believers. If they all work as we are told, then all those who practice them would have been wealthy. In reality, this is not so. This clearly shows that knowledge or information is missing in our quest to create wealth. In our desire to create wealth and come out of poverty, therefore, the total knowledge of all the material and spiritual requirements for wealth creation need to be imbibed."
Very Rev. Prof. S.U. Erivwo (JP), who also delivered a lecture titled: "The role of Agori-Iwe in the Christianization and evangelization of our land," urged the Anglicans in Urhobo nation and the entire Christians in the country to emulate the examplary life of Bishop Agori Iwe whose life is being celebrated.
"The Niger Delta area is made up of the Urhobo, the Isoko, the Itsekiri, and the Izon peoples of the present Delta State," he said, adding that their traditional beliefs and practices about God (Oghene), divinities, spirit (edjo/edho), ancestors (erivwn/esemo), and magic and medicine (ebo/orhan), are interrelated, very similar, and in certain cases identical.
According to him, Agori-Iwe hailed from Okuama, a village in Ewu, in the present Ughelli South LGA, and that for a long time, the parents had no male child because those born died in infancy. To preserve the life of her child, Emedaka, Agori's mother went to her hometown, Alagbabri, along the Forcados River in the lower Niger to have her only male child. She later gave birth to a plumpy and huge boy, who was consequently called Oguori. After some time at Alagbabri, the mother returned to Okuama with some of her relations, and later gave birth to a girl named Edafiewhare, Oguori's only sister. When Oguori attended the only school in their village at the time, and called his name to the teacher for registration, the teacher who could not write Oguori wrote Agori, which later became the name his parents called him.
Although Agori's children put1894 in his obituary as his date of birth, Agori himself put the date of his birth, confirmed by his age group- Ven. B.P. Apena and David Egbebruke, at 1906. The date 1906 has some significance for Agori's biography.
Ajayi Crowther, a Yoruba, was born around 1806. He was captured a slave boy and later liberated and settled in Sierra Leone, where he was educated and subsequently ordained in 1853, a clergyman of the Anglican Church, and later became the first African bishop when he was consecrated on St. Peter's Day, 1864.
"Agori Iwe, on the other hand is an Urhobo. He usually put his year of birth in about 1906. Educated at Warri, at St. Andrew's College Oyo, and at St. Paul's Collage, Awka, he was ordained in 1938 a clergyman of the Anglican Church, and became the first Urhobo bishop when he was consecrated on St. Andrew's Day in 1962.
"Their years of birth,1806 and 1906, and the days of their consecration, St. Andrew's Day, could not have been by mere coincidences, especially when their two episcopates are studied carefully, and one recalls that Peter and Andrew were brothers. Since however, this particular paper is not a comparative study of Agori Iwe and Ajayi Crowther, a task I had already done elsewhere, this line of thought may not be pursued further here.
"Agori first attended the village school at Okuama before he left for St. Andrew's C.M.S. School, Warri in 1920, where he passed his standard six, the first school leaving certificate in 1922. To pass standard six was a feat in those days, for according to the witness of Canon Binite (JP), 'a regular feature of the First School Leaving Certificate Examination at the time, was like the West African Coast, where many went and only a few returned.' When in 1934, six out of the 30 candidates enrolled by the C.M.S. School passed the examination, the whole town came out jubilating.
"Agori was thus a naturally bright student to have passed his First School Leaving Certificate Examination with ease at the first attempt. He was in consequence of his brilliance appointed a pupil teacher in his own alma mater in 1923.
"In 1924, he was selected by the church committee to be sent to St. Andrew's College Oyo, and be trained. At Oyo, he did a two year normal course for school teachers, and another two years as a theological student. After completing his studies at Oyo, by December 1927, he returned to Urhoboland to be a pioneer school teacher in Urhobo Church District in 1928.
"While he was at Oyo, Agori was very mindful of the purpose of his training. There were no trained personnel to organize and man the many Christian congregations that had sprung up all over Urhoboland, as a result of the evangelization of the area by Bishop James Johnson and his agents from 1901 to 1917. The teachers and church workers available were either Saros, Yoruba, West Indians or White missionaries.
"The Niger Delta Pastorate Church of James Johnson, which was chiefly responsible for the evangelizatgion of Urhoboland during the early years of the 20th century, lacked the men and means of carrying out effective evangelization and administration of the young churches, consequently, James Johnson had to make do with semi-illiterates who could barely read and write to do the work. In such a situation where virtually the blind were left to lead the blind, things were bound to go wrong.
"One Jacob Oluwole, a James Johnson agent whom Bishop H. E. Tugwell met, as the agent in charge of the congregation at Uhwokori in 1914, was for example not even baptized. Many of the Urhobo, who traveled along distances from the hinterland to Warri for church classes teaching were required to learn the catechism, either in Yoruba or in Itsekiri before they could be baptized. This was actually given by Omofoye Emuakpo of Ephron as one of the reaons why he had to lead a splinter group away from the Anglican Church in 1916, and join the African Church where the Yoruba pastor was willing to baptize them without the pre condition of learning the catechism in Yoruba.
"Conscious of the raison d' etre of his training at Oyo, Agori-Iwe was prepared to endure all the hardship which the training entailed. Consequently, when the students at St. Andrew's rioted in his time as a result of bad food, Agori as one of the student leaders refused to participate, saying he was not sent all the way from Urhoboland to eat food at Oyo, but to be trained for the church. This self discipline and tenacity of purpose displayed by Agori was taken note of by his tutors, and counted in his favour later in life.
"On his return from Oyo, Agori was posted to Otovwodo-Ughelli by the Rev. J.C.C. Thomas, the resident at St. Andrew's. This posting and choice of Otovwodo-Ughelli, instead of Ekiugbo which had been regarded before then as headquarters of the churches in the hinterland, did not meet with the approval of the local church leaders in Urhoboland, under the strong influence of Masima Ebosa, and this was at least one of the factors which led to the strained relationship between Ebosa and Thomas, and the ultimate emergence of Ishoshi Erhi, which shook the church in Urhoboland to its foundation.
"After the dust raised by the crisis had settled down, J.C.C. Thomas organized a conference at Okpare, of persons who had passed government standard six for the purpose of translating the scriptures under the leadership of Agori-Iwe in 1929.
"Agori himself got married in 1929, to Ruth Ovuomorayevbie. This was contrary to the expectation of many of his people, who not only advised him to marry an educated girl, but actually got ready several such girls, including one Rebecca, a step daughter of Okoro for him. Several of these girls were in fact not chaste, while Ruth Ovuomorayevibie, the choice of Agori's parents, had kept herself undefiled.
"It took sometime before Ruth became pregnant, and as was expected, many who had advised Agori not to marry her, mocked him. Consequently, when she finally took in and gave birth to a baby girl, she was named Eretareomavoro. Eretareomavoro was at baptism Christened Mary. Even after the arrival of Mary, agents of the evil one still mocked Agori, saying he could not survive on his meagre salary. Consequently, when the second child, a male arrived, he was named Oboreruru aria, you eat what you laboured for. Oboreruru aria, was at baptism Christened Samson. And Agori's wife, Ovuomorayevbie, proved to be very industrious and helpful in providing food for the family.
"In 1937, Agori went to St. Paul's College, Awka for his ordination course and was ordained into the deaconate on January 2, 1938 and priested by the end of the same year as the first priest of the Anglican Church in Urhoboland. He served in the then Eastern Nigeria, in 1939 at Nobi, where his second daughter, Helen was born. He was thereafter transferred back to Ughelli, to serve among his own people, and served until 1948 when he was sent to the United Kingdom for further theological studies at St.Aiden's College, Birkinghead Liverpool. On his return, he was posted to Eastern Region where he worked in Enugu until 1951.
"In 1952, Agori was transferred back to Urhoboland to be the superintendent of Urhobo District Church Council. He was in 1954 appointed archdeacon of Warri Archdeaconry, in succession to Archdeacon W.D. Burne. And on November 30, 1961, St. Andrew's Day, Venerable Agori-Iwe was consecrated the first bishop of the newly-created Benin Diocese, where he laboured faithfully until his retirement in 1977.
"Gold is tried and refined in fire. The Benin Diocese which Agori Iwe had to administer from 1962 to 1997, was inhabited by a congeries of ethnic groups, and it required great political wisdom, tact and administrative competence to administer such a vast area successfully. And Agori-Iwe did.
"However, in the course of his administration, he had cause to discipline two archdeacons, Echenim and Ejodame, appointed by him, and to excommunicate 21 members from the Anglican Church of Benin Diocese, as a result of a movement which started in Isoko, and caused a division in the A.A.P.S., the evangelistic wing of the church. Undoubtedly, these disciplinary actions were not taken lightly. They caused the diocesan pain. The excommunicated group was later known as Ole-Ezi, and had similar characteristics as the Ishoshi Erhi, which Agori as a catechist, had also confronted.
"That these actions were agonizing to the bishop himself is attested by an answer he gave to this writer when the bishop was asked at Agbor in 1973, whether, in fact the excommunicated group could not have been corrected, reconciled, and accommodated in the church. His reply was: 'I prayed consistently for over three years (1969 to 1972) about how best to handle the problem, before I finally acted. If you need further information, see the secretaries of two separate commissions of inquiry set up to investigate the activities of Ole-Ezi Sect' (Agori to S.U. Erivwo, at Agbor 1973)."
"Apart from the well-being of the church, which like Paul was Agori's constant concern, there were also trials and tribulations at the family front. Perhaps one of the most agonizing trials which Agori had to endure, was the protracted illness and the subsequent death of his first son, Samson. Samson was a brilliant child, who gained admission to D.M.G.S. Onitsha, but after performing brilliantly for the first academic year, went through a period of progressive mental degeneration. He had to withdraw from school, and became a primary school teacher at Ughelli, but the mental degeneration continued. All efforts to treat Samson proved abortive, and he later died of what is believed to be tumour of the brain.
"According to the well known Urhobo belief, a number of people attempted to convince Agori that the illness and death of Samson were consequent upon the activities of witches and sorcerers. But Agori refused to accept that view. In fact, all his life, he never blamed any human agent for his misfortunes. Rather, he construed his trials as his own share of the cross of Christ.
"Some men, as William Shakespeare, taught us, are born great, others achieve greatness, while others have greatness thrust upon them, Agori was certainly one of those who achieved greatness. When the white missionary, O.N. Gerrard under whom he worked refused to pay Agori his full monthly salary for two whole years, on the ground that the Urhobo churches over which he was in charge were not generating adequate funds, Agori complained to no one; rather, the bishop of the diocese, Rt. Rev. B. Lasbrey, who came from Onitsha, and who was going through the account books discovered that Agori had been underpaid for two years, caused the mission to pay the arrears.
"Agori achieved greatness by sheer industry, dedication to duty, and trust in God. In the judgement of some of his contemporaries, Agori may have been regarded as being high handed in the handling of certain issues. This was because he was much of a disciplinarian. If that was a weakness, that weakness paled to nothing when compared to the greatness he achieved in the militant church. Through his initiative, many modern schools and other educational institutions were built in several parts of Urhoboland. These were instruments and channels of evangelization.
"During the 1977-80, Warri Diocese Crisis, the courage of his conviction which he displayed moved him to single-handedly consecrate the Rt. Rev. John O. Dafiewhare for Warri Diocese, at a time the then province of West Africa was hell bent on giving Warri Diocese a non indigene as its first bishop. Without Agori's courage, there can be no telling of what would have happened after his death.
"If there is any weakness in Agori-Iwe, let us recall the words of a famous African theological P.K. Sarpong: 'Men are basically the same the world over. We are all endowed with intellect and free will. We all have the same aspirations and hopes. We are subject to the same laws, urges and moods. We all experience frustrations and joys, disappointment and fulfillment, sorrow and happiness. At one and the same time, we can all be greedy and generous, cruel and merciful, hypocritical and honest, murderous and kind. We are neither angels nor demons, we all possess the potentialities of angels nor demons. In short, we are, each and everyone of us human, (Sarpoong in a paper: African Theology: A reality 1977, p.1.).
"Having completed his assignment in the church, Agori slept peacefully on July 9, 1979, and passed on to the church expectant and the church triumphant to receive his crown of glory."
---